We Bring Precision to Major Event Transportation.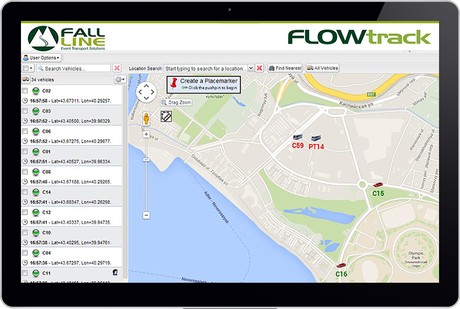 Within the ever-changing world of smartphone & GPS technology, the cost of tracking individual devices has reduced and the barriers to creating smart solutions for event based transport has become affordable.
We have developed a bespoke application "FLOWtrack" to offer both vehicle tracking and personnel tracking within the rigours of an event environment.
Fall Line is an expert at securing short-term vehicles and unifying them into one well managed and tracked fleet. The secret is not in the process of installing the technology but in the ability to take best advantage of the technology to create efficiencies, to enhance security, to limit calls to drivers, to improve scheduling and at the end of the day to ensure people are picked up and delivered on time every time. It enables better oversight of every ride and better real-time reporting of any vehicle or individual in our network.
Our solution can be applied across an entire fleet of coaches, minibuses, and executive cars and vans under one system regardless of the supplier or vehicle model. The system is completely scalable and affordable and has been developed and implemented during the previous two Olympic Games in London and Sochi across a mixed fleet of over 400 vehicles.
The system allows users to view their vehicles on all desktops, laptops, tablets and smartphone platforms giving access to real time vehicle locations, daily run history, speed and direction. It allows geo fencing to control route parameters and easily drop place-markers overlaid onto Google maps to give each user an easy visual of where the fleet is relative to where it should be. It is available across both Windows and OS operating systems and compatible on Android and iOS mobile devices. Features include:
'at a glance' fleet wide tracking
'fast track' (5 second reporting)
daily route history
'follow that vehicle' options
Personnel Tracking
FLOWtrack assists clients with tracking staff in an event environment. The App allows us to unify a group of individual smartphones and display them on one screen. Whether a security control room or client's office. Considering an employer's duty of care to staff based in the field, the App has a series of features allowing immediate notification of an emergency, journey reports to retrace a day's route and event specific map overlays to give the worker GPS guidance to a temporary gate location.
FLOWtrack has a built in Panic Button for emergency response. This pinpoints the phone/users location an sends an alert to our dispatch office or client's security control room.
In the same way FLOWtrack supports lone workers, the App can be setup on guest smartphones. For the duration of a guest stay on a hospitality program, we can unify all or a select group of guests and offer locational awareness to support in case any individual becomes lost in the busy event environment. We can immediately identify and task the closest staff member to meet and escort the guest back to the group.